Sightseeing, people-watching, window-shopping, and detail-spotting in Masarykova Street - now is the time
A part of Masarykova Street in the city center has recently become a car-free zone, now reserved for walkers and cyclists. The experience of the street has completely changed since. People are taking a small break from life to enjoy the city buzz. They grab a coffee, sit on one of the benches, look around... This brings me to my favorite pastime - sightseeing and detail-spotting, even here in Zagreb, my home-town. Why don't we all take a better look at Masarykova Street?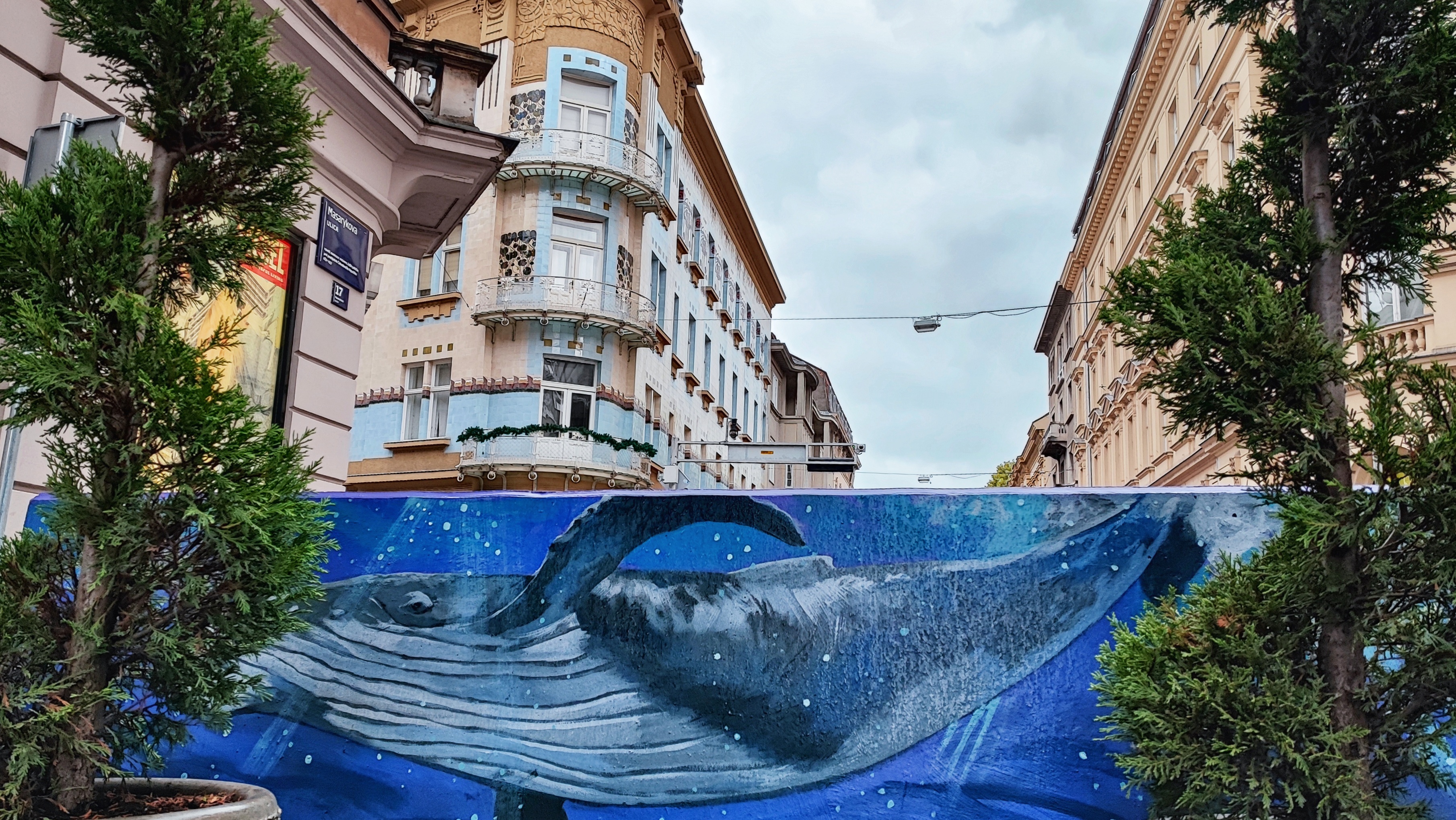 You shall not pass, if thou art driving a car
At a certain point, the street turns slightly and becomes Nikola Tesla Street. Together, the two streets connect the square around the Croatian National Theater with park Zrinjevac. Both places are well worth visiting, and the two connecting streets make a popular route for a 10-minute walk filled with window shopping and people-watching.
Two geniuses merged in one masterpiece welcome you at the beginning of Masarykova Street. I'm talking about the Nikola Tesla statue created by a great Croatian artist Ivan Meštrović. I love that statue because Tesla reminds me of a superhero, with somewhat of a cape.
There he is: Nikola Tesla captured in his eternal thinking
But that's not the only sculptural masterpiece in this corner. Look at the building across the street and you will spot decorations carved by Robert Frangeš Mihanović, another famous Croatian sculptor.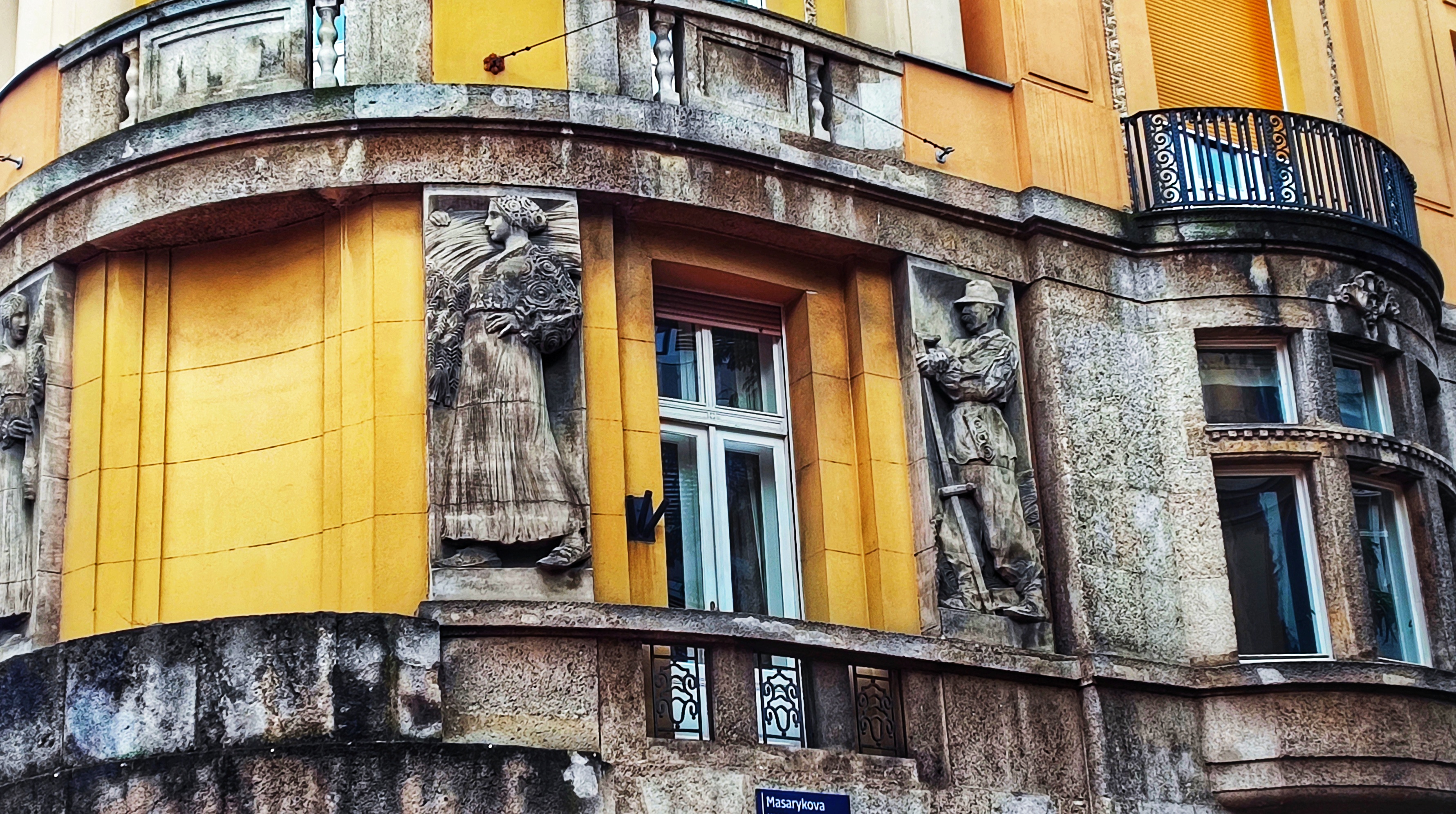 Allegorical representations of hard work decorate the 1909 building designed by Edo Šen to host an insurance association
The name Tesla has become world known. How about Masaryk? His name also travelled far from the borders of his country. He was the first president of Czechoslovakia. He fought for Czech autonomy in the Austrian-Hungarian empire, he stood for democracy, and he continues to be considered by many a role model for a statesman. Croatia, at the time, thrived to similar goals, and he influenced some Croatian intellectuals. After all, he warned of the unfair treatment of all the Slavic nations within the empire, Croats included.

As with all the changes in every city, the new pedestrian zone is not welcomed by all. History repeating: the residents hated this 1907 house designed by Viktor Kovačić, and it is now considered a monument of modernistic architecture
Kovačić, Bastl, Ehrlich, Lubynski, Pilar, Šen....these last names might not ring a bell if you come from far away, but they are some famous Zagreb architects who designed some buildings in Masarykova Street. I love the street as it is an exhibition of different architectural styles, and a memory of the past times. It has preserved some classic shops with wooden frames around windows and entrances.

The unusual blend of very different styles is one of the main features of Masarykova Street. To the left, meet "the first Zagreb skyscraper" from 1934, a 10-storey building designed by Slavko Löwy
The corner of Masarykova and Gundulićeva Street is one of my favorite ones in the entire city. It is surrounded by some curious sights. The small bar at the corner used to be the favorite place of a bohemian poet Tin Ujević.

A poem by Tin Ujević interpreted by Arsen Dedić. They are both respected Croatian artists who spent much of their life in Zagreb. You don't need to understand Croatian to sense the strong emotion of longing in these verses
The tallest building at the corner happens to be the first Croatian skyscraper - a ten-story building that even had a neon light commercial. "Just like in New York", they said when it got built. Something even better hides in plain sight across the street - the elaborated Kallina house covered in lavish ceramic tiles. A perfect art-nouveau exhibition of luxury and a perfect commercial, too: Mr. Kallina owned a ceramic tiles factory. Take a better look at the ornaments and you might be surprised by a line of bats around the first-floor windows. No wonder some people call it the bat house.

Ah, the good old days when there were no limits to imagination in architecture

Just one more detail of the glorious House Kallina created in 1904 by architect Vjekoslav Bastl: balconies with floor made of glass
A brand new addition to this street is giant road-art by the famous street artist Lunar. His art is often easy to tell for his signature cats - cute, simple, and colorful. This time, it's impossible not to recognize it. The catwalk just got a whole new meaning at the intersection of Masarykova, Teslina, and Preradovićeva Street. I enjoy this symbolic replacement of the official zebra crossings, now that they are not necessary anymore, with such a playful scenery.

Cats bring color even to a rainy day
The story about Masarykova Street goes on. This is a mere intro to its trend-setting spirit and colourful character. One thing's for sure: it is easy to take a better look at the buildings when you don't have to worry about the traffic. I hope you, too, will enjoy your walk through Masarykova Street.

Does this corner at the end of Masarykova Street remind you a little of Paris? No wonder, as Kavkaz used to be the cultural hotspot of Zagreb
Author: Iva Silla