The Sweet Taste of Zagreb
There is no better way to cool down on a hot day than by eating ice cream. This summer refreshment will excite your taste buds, so try the best ones that Zagreb has to offer. This is why we are giving you a list of ice creams that are a must-try if you find yourself in Zagreb.
Do you love ice cream? If somehow, your answer is no, let me change your mind.
There is no better way to cool down from sightseeing, than to grab a delicious "sladoled," as we call it in Croatia. Whether you prefer milk-based or water-based ice creams, or are looking for a healthier, vegan, or gluten-free option, Zagreb won't let you down.
Keep reading to find out why Zagrebians love this summer refreshment so much.
Ledo - the taste of tradition
The first ice cream produced in Croatia is called Snjeguljica (Snow White). Famous Croatian ice cream and frozen food brand, called Ledo, created it in 1958. Since then, Ledo's creamy, frosty and delicious ice creams have brought smiles and happiness to children and adults around the country. Snjeguljica immediately won over the hearts of those who love delicate and creamy vanilla, with a crispy cocoa coating. The best part is that you can still buy it! Find your favorite flavor in Ledo freezers, which you can find in almost every supermarket.
Image credit: Lice Grada
Ledo is a big part of Croatian tradition, and a "beloved friend of the whole family." It offers a wide range of ice cream flavors: from chocolate and vanilla, to fruity and fun ones. Since I'm a big fan of chocolate, my favorite one is Macho Chocolate with a nougat filling, wrapped in milk chocolate and waffle pieces. Trust me on this one - it will leave you breathless!
Ledo ice cream reminds me of my childhood. When I was a kid, I used to go to the market near my house with my mom. We would always buy Macho Chocolate in the summertime because it's also my mom's favorite. Yes, I got it from my mama! I remember the lady working there. She was so sweet, kind, and friendly. We would always have a chat with her, which made my day. And I bet we made hers. Ah, what a lovely memory!
And I can't forget to mention Ledo medo (eng. bear) - a cute mascot that brings joy to all ice cream fans.
Best places to eat ice cream in Zagreb
There is something special about eating ice cream on a hot day in Zagreb. I believe that when you travel, you must experience the place with all your senses. Luckily, Zagreb has a lot to offer for those senses. But let's focus on the taste. I mean, sweet taste. The sweet and icy taste of Zagreb. So, get your taste buds ready, because I am about to give you a list of some of the city's best ice cream parlors.
Image credit: M. Vrdoljak, TZGZ
During its 45 years of existence, family-owned patisserie Vincek changed Zagreb's cake and pastry image. So, if you find yourself in Zagreb, their pastries, cakes, ice cream, and other unique delicacies are a must-try. And if you are looking for healthier, gluten-free, or vegan ice cream options, you can find them in Vis-à-vis by Vincek, the cutest little cake and pastry shop.
Image credit: Lice Grada
Gelato & Brunch Bar Melt is also a great place to enjoy ice cream in Zagreb. Their ice cream flavors are vibrant and authentic, like the unusual chocolate and salt flavor. Unfortunately, I haven't had a chance to try their ice cream yet, but they are definitely on my wishlist!
Image credit: Lice Grada
If a shabby chic interior and romantic atmosphere are your thing, then Amelie is the right place to go! A cozy space, and a pretty terrace, in the center of the town, are what make Amelie a place worth the visit. Beside their sweet delicacies, they also offer some interesting ice cream flavors.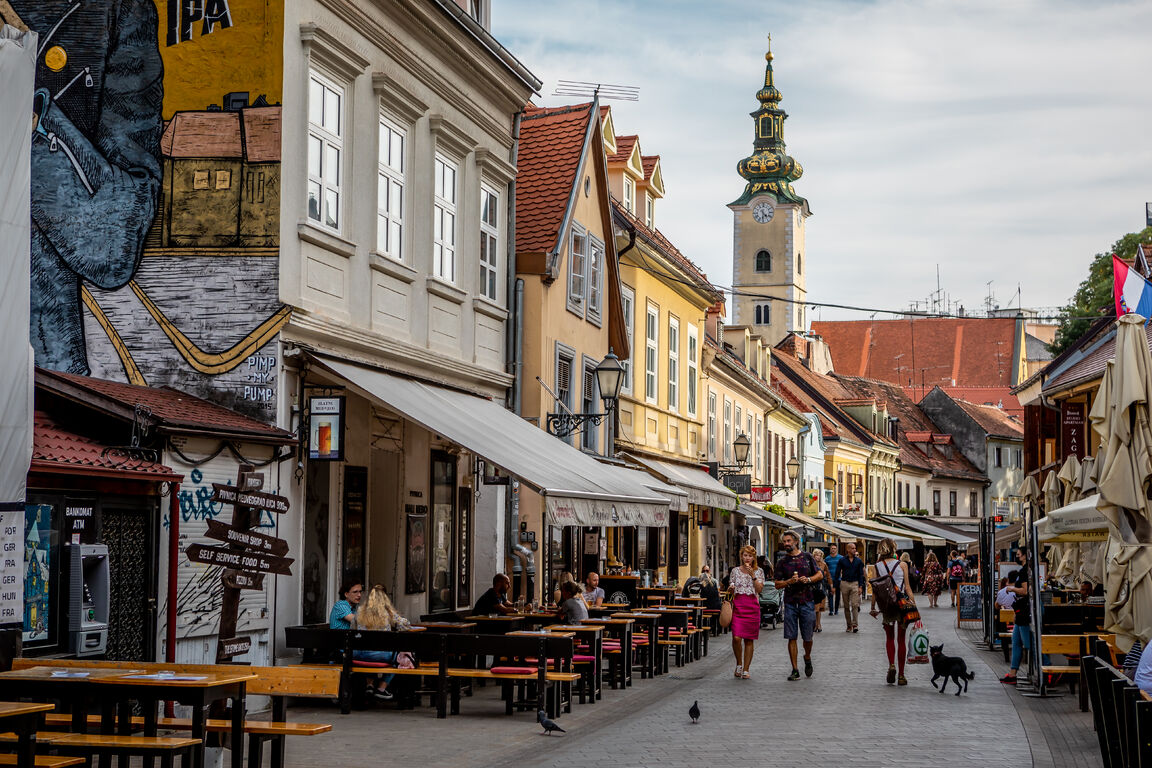 Image credit: J. Duval, TZGZ
Last but not least, is Torterie Macaron, a prominent pastry shop chain that owes much of its popularity to its ice creams. Not only that, but they are the first, and so far, the only Croatian crafted ice creams available in supermarkets. Without a doubt my favorite flavor is ferrerito. It tastes A-M-A-Z-I-N-G!
There it is - a list of ice creams in Zagreb, that bring instant refreshment. Get ready for a wealth of flavors to excite your taste buds, and enjoy!
Header image credit: N. Madunović, TZGZ
Author: Magdalena Hegedić