The Power Of Community Shines Once Again!
As we Croatians often like to say: when a tragedy strikes, we always show our hearts and help each other! The aftermath of a strong earthquake which has recently hit Petrinja and the surrounding area left people in complete shock and despair, but it once again showed that in times of hardship we are stronger together!
At the end of March 2020 I wrote a blogpost talking about the aftermath of the strong earthquake which shook Zagrebians on March 22nd 2020. Back then I couldn't even imagine a tragedy like that would happen again and that this time it would be even worse.
Image credit: Lice Grada (the aftermath of the earthquake in March 2020. in Zagreb)
As you may have heard, Croatia was hit with a strong 6.4 earthquake on December 29th. The epicentre was in Petrinja, a town located north-east from the capital Zagreb, only about an hour a drive. Because of the close proximity, Zagrebians also felt it really hard which was a frightening reminder of the earthquake from last March.
Unfortunately, citizens of Petrinja, Sisak, Glina and the surrounding area are faced with far worse consequences compared to Zagrebians. Almost all the houses were partially damaged or completely ruined due to this devastating earthquake, leaving people of Petrinja in the streets overnight, and tragically, seven people lost their lives. As if the main earthquake wasn't enough, there were more than a hundred aftershocks, some stronger and some less strong on the Richter scale.
Image credit: Lice Grada (mural - Zagreb for Petrinja)
Together once again
As we Croatians often like to say: when a tragedy strikes, we always show our hearts and help each other! Alongside official help and official services who immediately headed to the affected area to help the people of Petrinja, in the hours after the earthquake, there was also a spontaneous outpour of help from all parts of Croatia.
People from all over Croatia immediately started locally collecting warm clothes, food supplies and offered caravans and small remote houses to send to the affected families. Many hotels and apartment owners also offered temporary or longterm accommodation for the people who lost their homes overnight.
Of course, Zagrebians also participated in collecting all the help possible and organising transport to the areas most damaged by the earthquake. Many local community centres opened their doors and people could go and leave things they thought would be helpful to the victims of this devastating earthquake. Below is a picture of my local centre in Bukovac neighbourhood which was filled with donations the very first day after the earthquake. It really warmed my heart to see how many people came in just a matter of hours, and collected so many donations for those in need.
Image credit: Darija Ilić
Everything was organised very fast and once again the power of social media showed its strength. These kinds of donation points were created all over the city, in almost every neighbourhood, which enabled people to help the victims and do their little part in this horrible tragedy.
A warm side of the infamous Bad Blue Boys
As I already mentioned, Zagreb was also hit by a strong earthquake earlier in 2020. Back then, one of the first organised groups on the ground were the Bad Blu Boys (BBB), the famous supporters of Zagreb's biggest football club – Dinamo. Often characterized as hooligans, the Bad Blue Boys showed that they truly care for their city and its citizens by helping out at the then badly damaged maternity hospital in Petrova street.
This time too, Bad Blue Boys were one of the first people in Petrinja, helping the injured and even rescuing those stuck under the ruins of the town. The most beautiful thing for me, is that in the midst of all this chaos, everybody had forgotten about their differences. In Petrinja, you could see Torcida fans of Hajduk (Split) and Bad Blue Boys working together with one common goal – help as many people as they could. This once again showed how big the Croatian heart is, because Petrinja was literally flooded with people coming from every single part of Croatia.
Image credit: Lice Grada (mural - Zagreb for Petrinja which says "You are not alone")
How can you help?
Even though some time has passed since the devastating earthquake, the people of Petrinja and the whole area of Sisačko – Moslavačka region will need help for a long time. If you want to donate money to a trustworthy source, you can do so through a special bank account which was created by the Government of the Republic of Croatia after declaring that the earthquake damage was officially labelled as a natural disaster. You can find all the details here, on the Government's official website. Also, another reliable source for donations is Red Cross Croatia which collects both money and In-kind donations. Find all the information about donating to the Croatian Red cross here.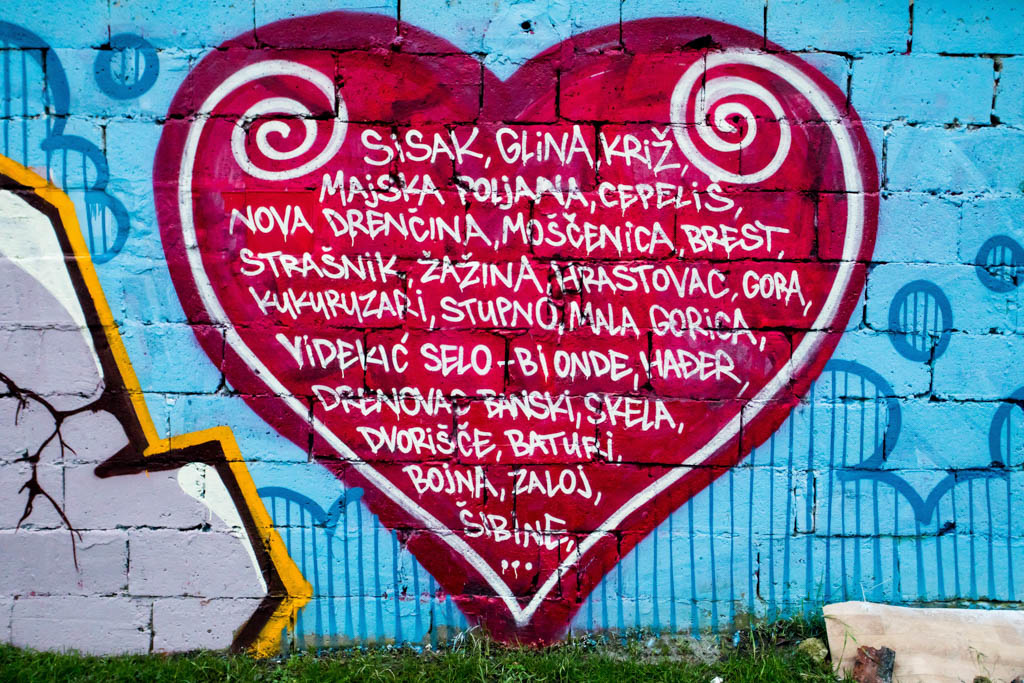 Image credit: Lice Grada (mural in Zagreb with a list of towns and villages affected by the earthquake)
In the end, I would love to personally express my gratitude to all the people who helped, even with the tiniest donations during this hard time. I'm sure it gave the people of Petrinja and the surrounding area a sense of hope and love which they really need. Especially in those hard first few hours, where panic, despair and fear of another strike could have easily taken over their spirits. Let's all hope for a much better year ahead of us!
Header image credit: Lice Grada
Author: Darija Ilić