The Hidden Gems of Zagreb Lower Town
Everyone has its own path. I have a tendency to take detours. Why? Because moving in a straight line, although probably wise and secure, is frequently boring.
There are a few spots in Zagreb Lower town that I somehow always include into my route because they bring me joy. Without further ado, I bring you my favorite locations to dwell upon.
Croatian national theater building dating from the late 19th century is really a piece of art, but there is an installation that always catches my eyes. It stands proudly in front of the theater house, and it is easily noticeable. I am talking about the work of a prominent 20th-century sculptor, Ivan Mestrovic. He was in his early 20ties when he made this beauty; personally I find this one to be his best work.
Image credit: Filip Donadić
It's called the Well of life, and it represents the dynamics and the essence of life. A lot of people notice immediately naked people kissing, but I like to think there is more to it. The more interesting story behind the sculpture originates from its placement in the early 20th century.
''Morally pure'' people of Zagreb had a lot of difficulties embracing ''naked people kissing'' so they protested against it. A lot of mothers of Zagreb rebelled and shouted that their children do not need to see this while walking towards the school.
Because of that they decided to dig in the ground, descend the installation there and encircle it with stone walls to provide shelter. This way, while you are walking next to it, you cannot see it unless you come directly to the work. Funny thing, at that exact period, prostitution was legal in Zagreb and people did not object to that. Behold the influence of imaginary naked people kissing. :)
Not far away, a short stroll would take you to my favorite crossing in the whole city. Although every touristic pamphlet would say that the first skyscraper in Zagreb is the one from the 60's that is on the Main Square, I reject this information. If you ask me, the first Zagreb skyscraper is this one, made by Mr. Lowy.
Image credit: Filip Donadić
It was erected in the 1930s, and has that peculiar charm and historical influence. Even though Wikipedia says that a skyscraper is a building with 10 or more floors, I still firmly give this title of the first skyscraper to this nine storey building.
Just across the street, let your eyes feast. Do not be so ignorant like the many locals here, and just look up! You will see the most beautiful example of secession style in Zagreb! Kallina house is not just a beautiful face with no substance. Thank you Mr. Kallina for being a wealthy entrepreneur with an excellent nose for marketing. When you own a ceramic tile company and want to market your products to the world, you put them on the facade of your building. Way to go! Enjoy the floral and animal elements depicted on the facade, my favorite ones are the bats.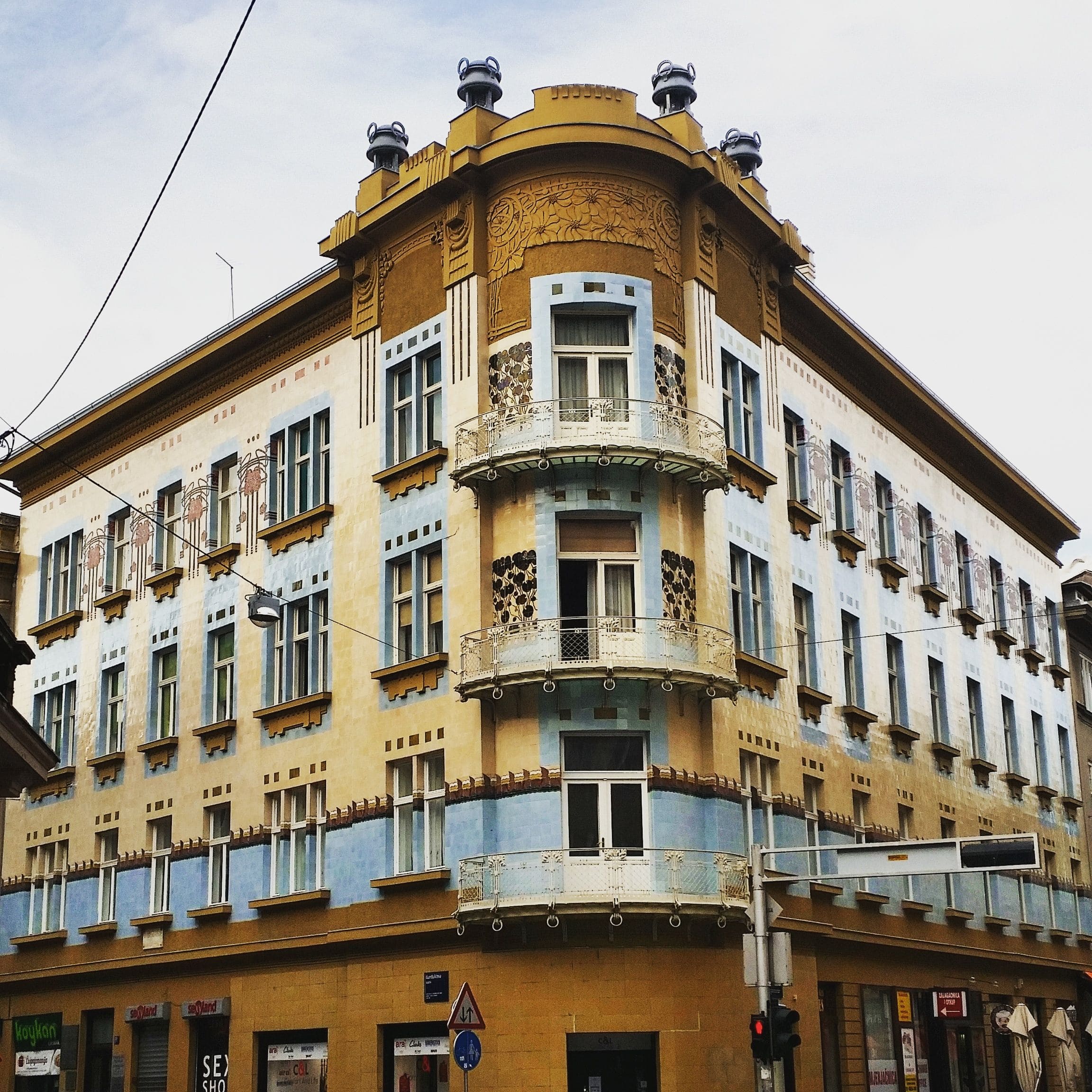 Image credit: Filip Donadić
My careless walk frequently brings me to the grounded sun. To appreciate the significance of the upcoming story, we have to break it in three parts. Thank you Mr. Kozaric for bringing the sun and illuminating the streets of the town center of Zagreb! Your sphere has brought much joy to me over the years, but we will get to that.
Image credit: Filip Donadić
The second part of the story has to have the planets of the solar system because the sun without its planets is a sad love story. What am I talking about? Well, our metropolis has all the other planets placed throughout the city, and they are in scale compared to the initial size of the sun. Even the distances between them are taken into account.
Go on a planet hunt, you will soon realize what I am blabbering about. This brings us to the third and crucial part of the story. Ever since I was a kid, I wanted to climb the grounded sun, which is difficult if you take into consideration that the diameter of the sun is 2 meters. I succeeded one night. Admittedly a little tipsy and with encouragement from a girl. I always remember this ''historical jump'' while passing the sphere.


Image credit: Filip Donadić
One of the most beautiful parts of the Lower Town is most definitely the green horseshoe. 8 parks and squares aligned in a shape of a letter U. Walk the walk; you will be satisfied. But the most interesting part of the horseshoe is directly in it! I named him the boy with a big bladder; it is not an official name of this statute, but it is in my book.
The young gentlemen simply drank too much water and is constantly peeing. He does not mind if you take a photo. Brussels, ours is bigger than yours. :P
My last hidden gem is Pluto, the dog. Everybody loves dogs, so this is a good finale story. Pluto was a stray dog that one night came to the workers of Zagreb Octagon that was being built in the late 19th century. The construction workers fed him and became friends with the dog.
Every night Pluto would guard the construction site against the robbers that would try to steal the material. Unfortunately, one night Pluto was killed. To commemorate and always remember Pluto, the workers made him a statue. This story of friendship should never be forgotten.
Image credit: Filip Donadić
Although it is beautiful to fall in love with other people, try sometimes to fall in love with a city. So, find your own spots, enjoy the views and love Zagreb.
Header image credit: Zagreb Tourist Board/Marko Vrdoljak
Author: Filip Donadić