The First and Only American Barbershop in Zagreb
According to Shawn, the barbershop owner whom I've talked to - the quality of life in Zagreb and Croatia is fantastic, in fact, much better compared to many places in the States.
Meet Shawn, a true Californian who enrolled The Paul Mitchel School of Cosmetology on the advice of a close friend. Shawn's skills were discovered in a military base, volunteering his skills to returning servicemen and women, which, later on, led to an offer of an apprenticeship in NYC. His skill was truly born during the nine months he worked in the production department of Art + Commerce, after which he assisted Kevin Ryan and Sam McKnight for eight straight years. After that, the rest is history. I talked with him about his life in Zagreb, his likes, dislikes, and he even discovered something pretty exciting to me.
Shawn's view of the city
Shawn's been living here in Zagreb for four years now. He said to me he didn't want to do the military contracting anymore and decided to move here with his wife. He says that the quality of life is amazing compared to many places in the States. Did you see that, my dear reader? That's precisely what we've been talking about all these years in our blog posts about Zagreb. When I asked Shawn what does he like best about Zagreb, he responded: "Zagreb is big enough city to live and work, yet it is very calm like a small city. I love the architecture here and the historic buildings, coffee culture, and people."
The barbershop you just walk in
He's currently the owner of Barber Shop Zagreb – the only American barbershop in Europe that is not close to a US military installation. He collaborated with Elle and other editorial and online publications. During fashion weeks in London, Milan, and Paris, Shawn's working with Duffy and Anthony Turner. Besides that, he's producing his own line of traditional men's grooming products and is currently expanding his brand and barbershop.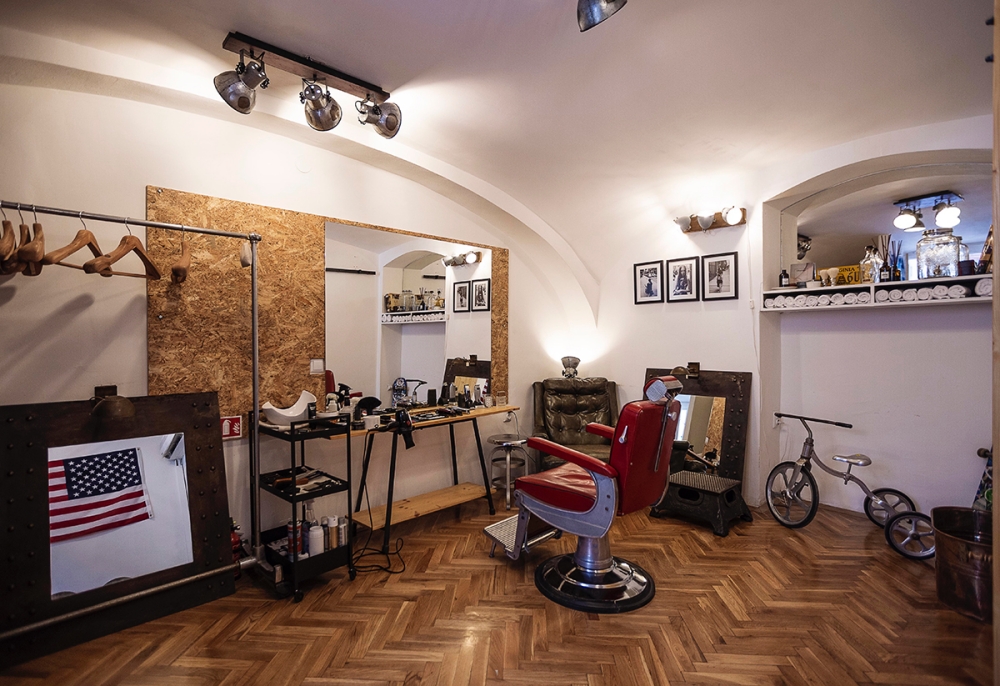 Photo Credit: Croatia Infiltration for American Barbershop Zagreb
His barbershop is located at Kačićeva 10, which is just a block from Britanski trg (Britanac), where he lives. He describes it as a very similar neighborhood like the one he lived in New York, and that's Gramercy. But the main difference is that it gets quiet at night, which is relatively important to him: "I just step out my door and the stores, trams, shopping malls, as well as cinema, restaurants, and bars are meters away. Most importantly, my gym is less than 2km away." it's how he describes his neighborhood in Zagreb and adds: "What I like about this neighborhood is that it is not 24h non-stop like New York is. It is more like Bavaria in Germany where shops close at a reasonable hour, so it is not loud at all times, and it gets tranquil at night.", he concluded.
Bet you didn't know this (I didn't)
Life quality is one thing, but lifestyle is something else. When it comes to comparing lifestyles, Shawn claims that the one Californians have is pretty similar to the one we nurture here: "Californian lifestyle is remarkably similar to Croatian. Californians also like to be outdoors, and we care about the quality of our food and water. We care about the environment more than other Americans. We work to live not live to work." Okay, I said, but something has to be different, for sure? "The only difference from Croatians is that Californians, like all typical Americans, are struggling to separate work from home, while that's very easy here.", Shawn replied readily and added: "Since I grew up in Southern California, this is more in line with how I want to live. It's very easy for a Californian to adjust here in Croatia to the lifestyle and pace of living. I worked hard in New York City during my time in fashion as an editorial hairstylist and in Bavaria as a soldier, where I was stationed for six years with the US Army. I am at a point now where that intensity is no longer necessary."

Photo Credit: Croatia Infiltration for American Barbershop Zagreb
What is Zagreb missing, according to Shawn?
Well, it can't always be perfect. And so it wouldn't all be pitch-perfect, I asked Shawn what would he bring to Zagreb if he could bring anything. Well, I can't be sure, but it might be that he unwittingly discovered something we will maybe also write about one day: "Zagreb needs a place with real Mexican food – something like Chipotle would do great here. All the necessary ingredients can be sourced locally. Actually, one of my friends is working on bringing Mexican food here. He's Cuban, but he's been working in a Mexican restaurant for some time now and is almost ready. He's also a native Californian." Now, although I can't agree you can't get real Mexican food in Zagreb, I must say, this is some exciting news. When I asked him about the places he likes to visit in his free time, he clearly revealed some of his favorites: Swanky always has some cool events, and it is super close, I like Beertija as well – great place with awesome beer. Arena Zagreb is fantastic when fights are going on there", he instructed me on his preferences.
The currently unavoidable question
As we've already written a sequence on articles about the different perspectives of the pandemic, I had to ask Shawn his point of view on it all: "I personally did not panic and was ready and able to weather it. I focused on some other things that needed to be done and for which I didn't have time before the social distancing measures. It was simply weird having the earthquake during the pandemic. It was a blessing and a curse. Exceedingly difficult timing for everyone in Zagreb, but it was a miracle no one was in the streets walking about." We can all agree that the time of hardship is somewhat behind us now, but it all has an impact on our lives now, and it will have in the future too. As well as everybody else, Shawn felt the impact it had on his business: It had gotten to the point where I had to switch the working hours as my arthritis was flaring up and I have a damaged disk in my spine which is injured again now due to so much work. Regardless, I am happy all is back to normal and that people can get a haircut again when they need it. Well, the "new normal "..." concluded Shawn.

Photo Credit: Croatia Infiltration for American Barbershop Zagreb
So, if you still haven't managed to get your haircut after the quarantine, or you were one of the first to get it, and you already need a new one, a great place to visit is Shawn's barbershop. He's working on the walk-in principle, so there's no need for you to make an appointment. See you at the only American Shop in Zagreb.
Header Image Credit: Croatia Infiltration for American Barbershop Zagreb
Author: Tibor Trupec